MIDI Reimagined
100 banks, more than 80 messages per switch, stackable messages, and flexible MIDI routing are just the beginning.
The BRIDGE6 is a next-gen MIDI foot controller with no compromises. A lightning fast ARM processor and plenty of storage means regular and ongoing firmware and feature updates.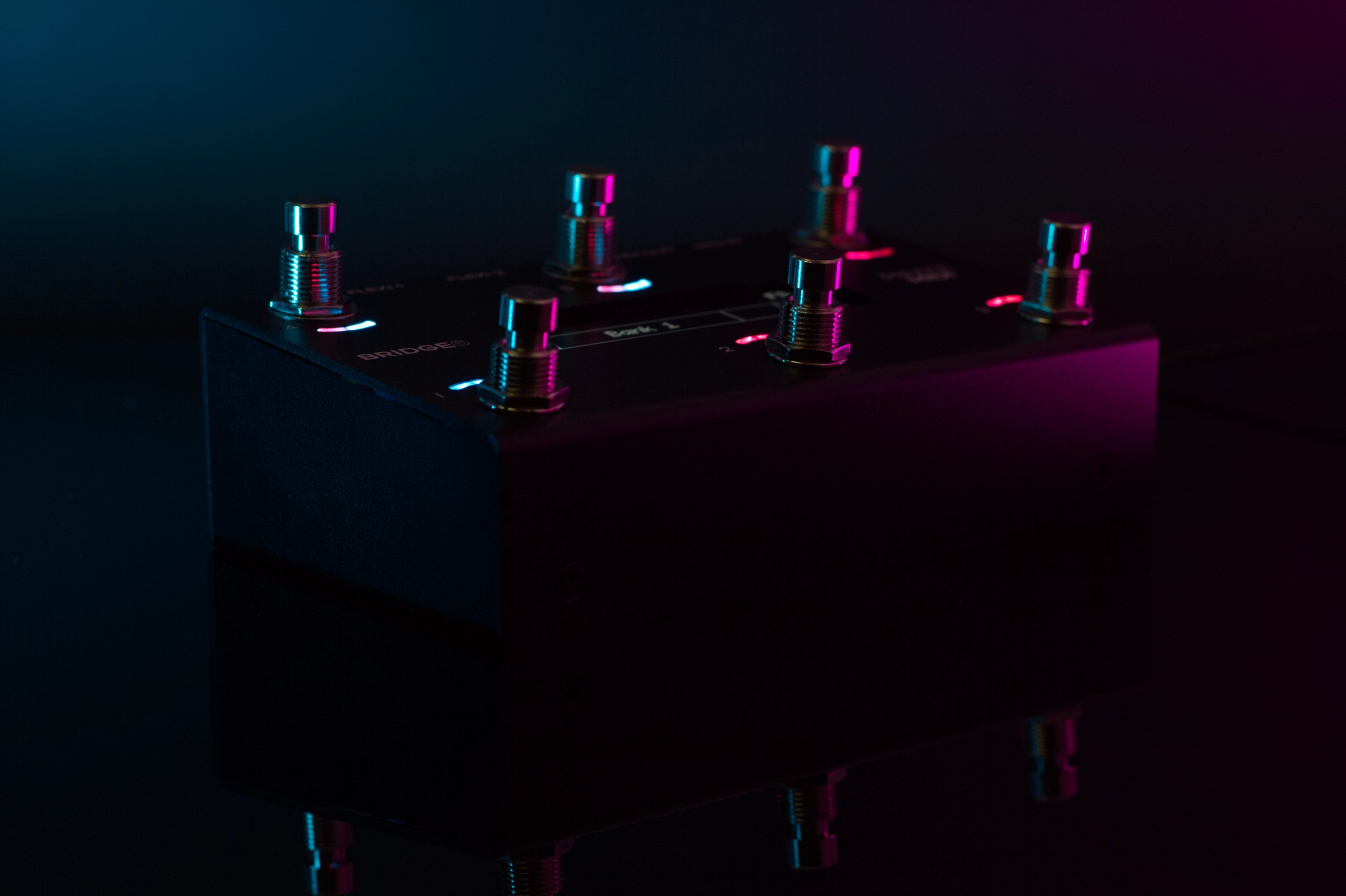 DIY Beginnings
Both Simon & Sam made their start through DIY projects and handmade MIDI controllers.

Seeing a need for better, easier to use controllers, they teamed up to develop what would eventually become the BRIDGE6.
Kickstarter Success
Fully funded in 2 hours, the BRIDGE6 launched on Kickstarter in December 2020 (try and pick a worse time to start hardware manufacturing).

Now, after 2 years, we've shipped hundreds of MIDI controllers all over the world.
Design and Purpose
After the Kickstarter, some minor refinements were made, and hard work on the firmware features and web editor app went underway.

Now, in 2023 we have a web editor, an unparalleled feature set, and an amazing community.
Local Manufacturing
PIRATE MIDI devices are made in Australia. We own our own circuit board assembly machinery and assemble the device by hand in New South Wales.
We aim to be responsible manufacturers with minimal supply chains and recyclable materials where possible.
Come out of the dark age
Connect everything - your gear, apps, and plugins - and control them exactly the way you want with RGB colour feedback and a high-contrast, easy-to-read display.

White OLED graphical display and 12 RGB LEDs let you customise labels and text.
RGB LEDs
The dual-zone RGB LEDs allow for powerful visual feedback.

Use colours for instant recognition: you might use blue for reverbs, red for amps, green for drive, or match the colours of your gear for a great aesthetic!

You can change colours on the fly with the onboard menu or select from millions on the desktop app. Each switch has a primary and secondary LED. Make them the same, or split them for even more detail.
OLED Graphical Display
OLED means no glaring backlight, and no viewing angle problems. OLED has an extremely high contrast ratio and is one of the most readable display technologies - even from standing height.

Crisp, clean, and easy to read, our 3.2" OLED graphic display shows text labels and icons while allowing you to navigate menus and banks with ease.
Give each bank and switch it's own custom label to match or add to the LEDs.

Connectors you expect
DIN5 MIDI out & 1/4" TRS MIDI In.
Two 1/4" TRS Flexiports.
USB Type-C & 2.1mm Centre-negative DC barrel jack.
Silent Switches
We use silent momentary-style footswitches made by the same factory that supplies large effects pedal manufacturers. They're solid and reliable. And if you happen to break one, they're easily replaceable too.
Control everything
Configure to your needs with our sleek, intuitive web editor. Export your layout, and use our huge device library to save you hours of setup time.

Add wireless MIDI with CME WIDI devices.
MORE ABOUT DEVICE LIBRARY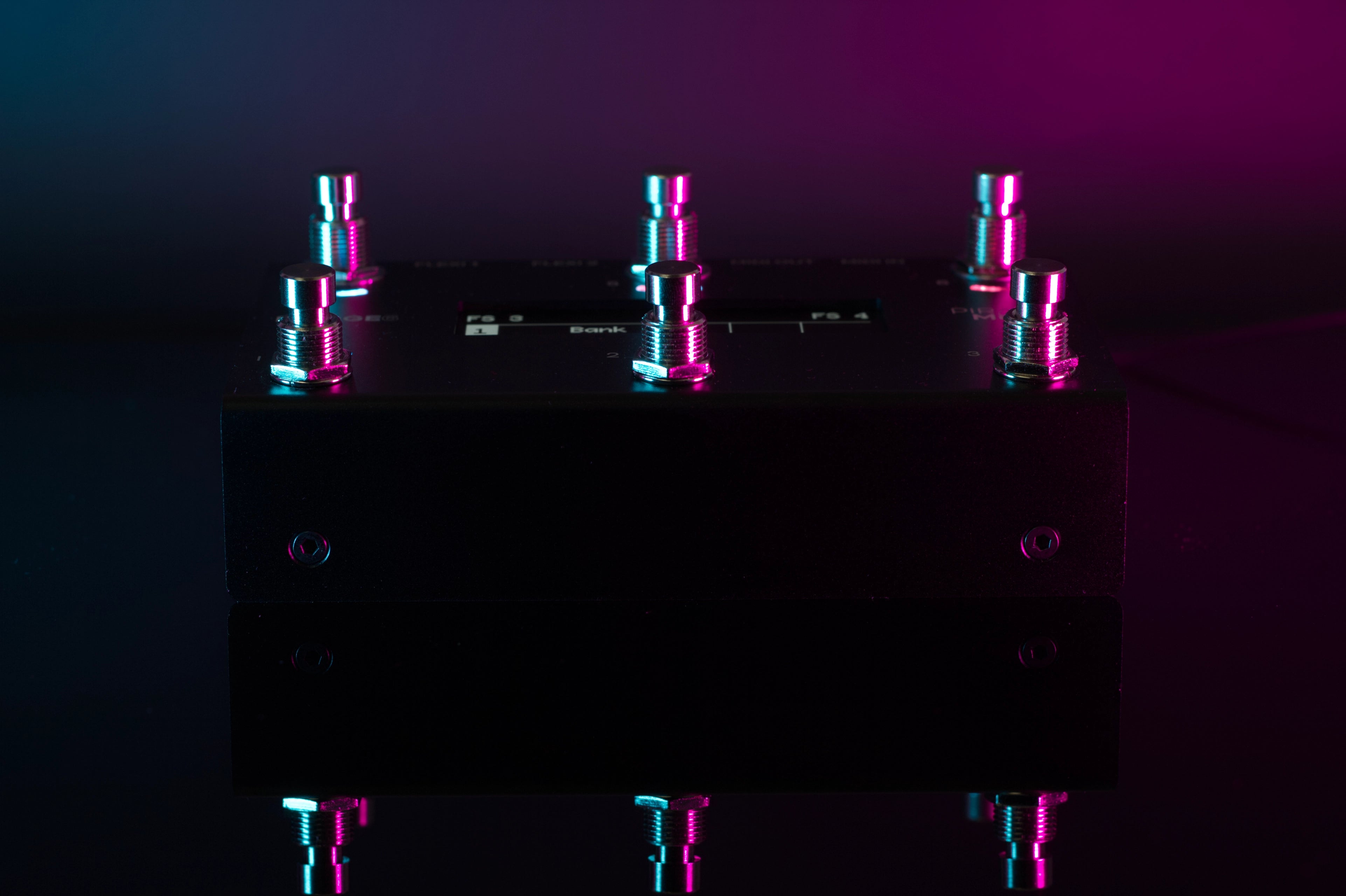 Device Library
With over 460 devices and 30,000 MIDI commands, our Device Library database is the largest of its kind. In our web editor, you can find your device, add the desired command, and start working without even opening a user manual to look for MIDI commands.
It's incredibly useful and will save you hours of setup time.
Live or offline editing
All the settings and features of the BRIDGE6 are editable onboard the device itself - independent of the web editor. If you're on stage and need to tweak something, it'll only take a few seconds.
The web editor takes all these settings and adds the Device Library and the ability to easily see how everything is laid out as well as being able to edit device profiles without even having the device plugged into the computer.
Multiple MIDI Streams
MIDI itself is limited to 16 channels, but when you can separate the MIDI, you can functionally have more than 16.
Each message that you add will automatically be sent to all 4 MIDI outs - DIN5, USB, Flexi 1, and Flexi2, but you can pick and choose the outputs for each individual message, essentially giving you 4 independent MIDI outs to work with.
Collaborate
In our editor, you can start with a template for a particular device or configuration that is popular. Load it in the editor, and you'll be ready to tweak in just a few seconds, saving you more hours of setup time!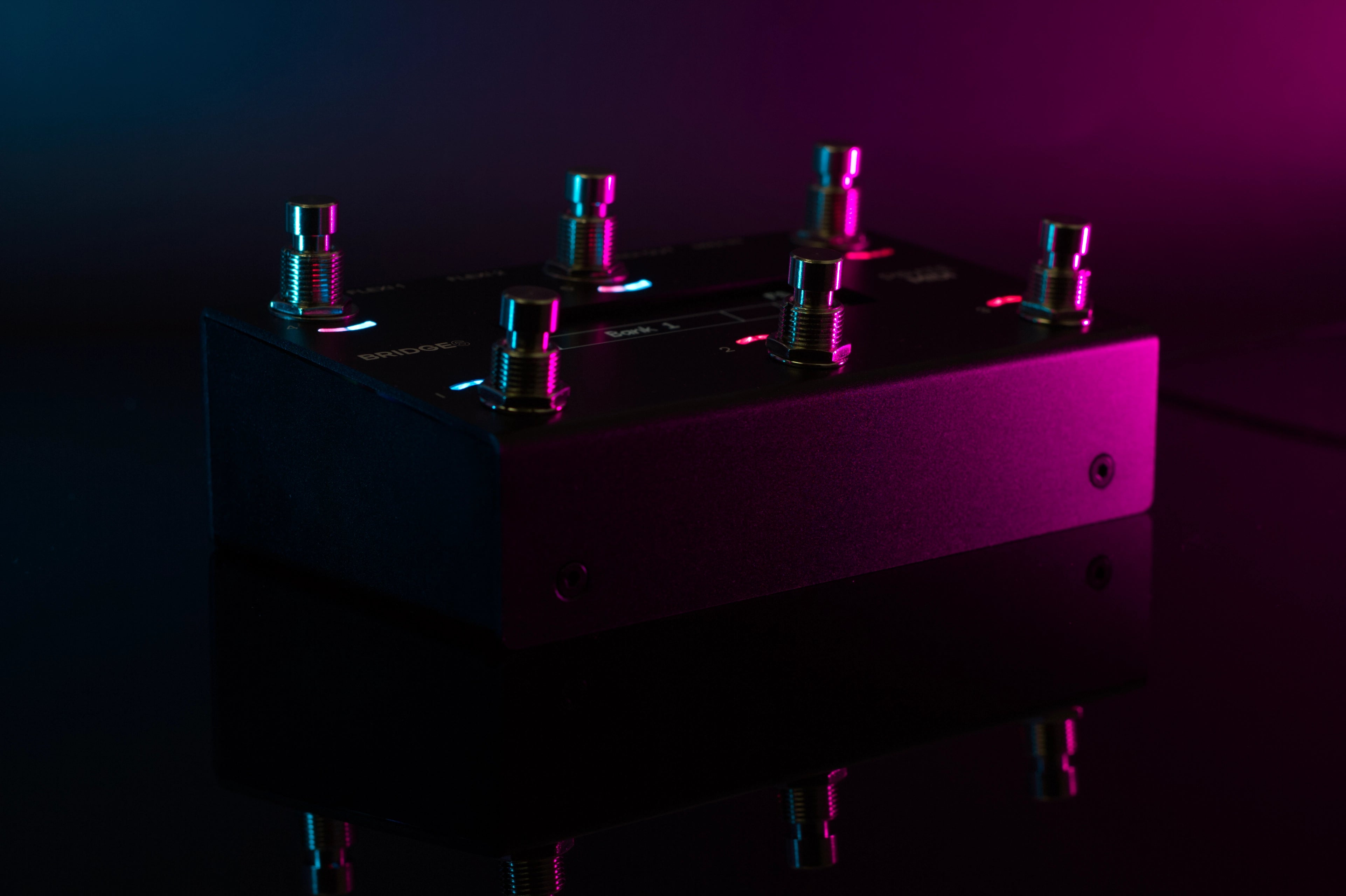 Never lose track of time
With two independent MIDI clocks on board, LFOs sync'd to those clocks (or not), and the ability to turn the tempo into analog switch output, or pulse output, you really do have the best of all worlds.
Two Independent Tap Tempos
Clock A and Clock B allow you to have two separate MIDI clocks running at the same time. They can be sent to separate MIDI outptus and remain completely separate.
Send MIDI "Start" and "Stop" clock commands just by holding the switch down.
See the tempo update on the screen every time you press the switch, and the LED will flash in time as well.
Automate MIDI Movement
Every switch on every bank can have an LFO associated with it. The LFOs can automatically oscillate the value of a MIDI message according to different waveforms and clock speeds you choose.
Choose a messages stack, and all the messages will automatically be oscillated by the LFO.
Analog Tap Tempo
Some devices, like many delay pedals, may have a tap tempo aux switch jack. Instead of plugging in a tap switch, why not connect a Flexiport, and let it do the tapping for you?

Now non-MIDI delay pedals can come to the MIDI clock party too!
Pulse Clock
Some devices, like Teenage Engineering's Pocket Operator series, or the Korg volca series, use a square wave pulse to transmit clock and sync together. You can send a Pulse Clock from Flexiports!
Flexiport Magic
Two 1/4" TRS jacks give you 12 options from MIDI Out (all TRS types) to Expression In, Aux Switch In, Sync Pulse Out, and our unique Device Link protocol for high-speed communication between PIRATE MIDI devices with Flexiports.

Read below for full list of Flexiport modes.
Flexiport Modes
- MIDI Out (Type A)
- MIDI Out (Type B)
- MIDI Out (Tip Active)
- MIDI Out (Ring Active)
- Expression Pedal In
- Exp-Doubler In
- Tap Tempo Out
- Aux Switch In
- Switch Out
- Relay Interface Out
- Sync Pulse Out
- Device Link
No more special cables
Instead of ordering and labelling special TRS cables with different pin arrangements, just use a normal MIDI TRS adapter or cable, and change the TRS type from the Flexiport!

Covering all the TRS types used by non-standard brands like Strymon, Meris, Chase Bliss, Alexander, and more.
Expression Pedals and Aux Switches
Expression pedals are awesome. So awesome, that if you want to use 4 of them with one BRIDGE6, we've made that possible with our special Exp-Doubler device. But normal TRS expression pedals work great too, along with calibration to make sure you get proper range out of any pedal.

Aux switches can also be connected to add more footswitches to your BRIDGE. Connect a triple Aux switch to each Flexiport and you have 6 more footswitches!
Device Link
The MIDI protocol, being so old, actually sends messages quite slowly. By implementing our own system for communicating between devices, we have enabled high-speed communication of MIDI messages and settings which enables device synchronisation & routing of MIDI between PIRATE MIDI devices without introducing noticeable latency.
Device Link will be getting more powerful upgrades in the future.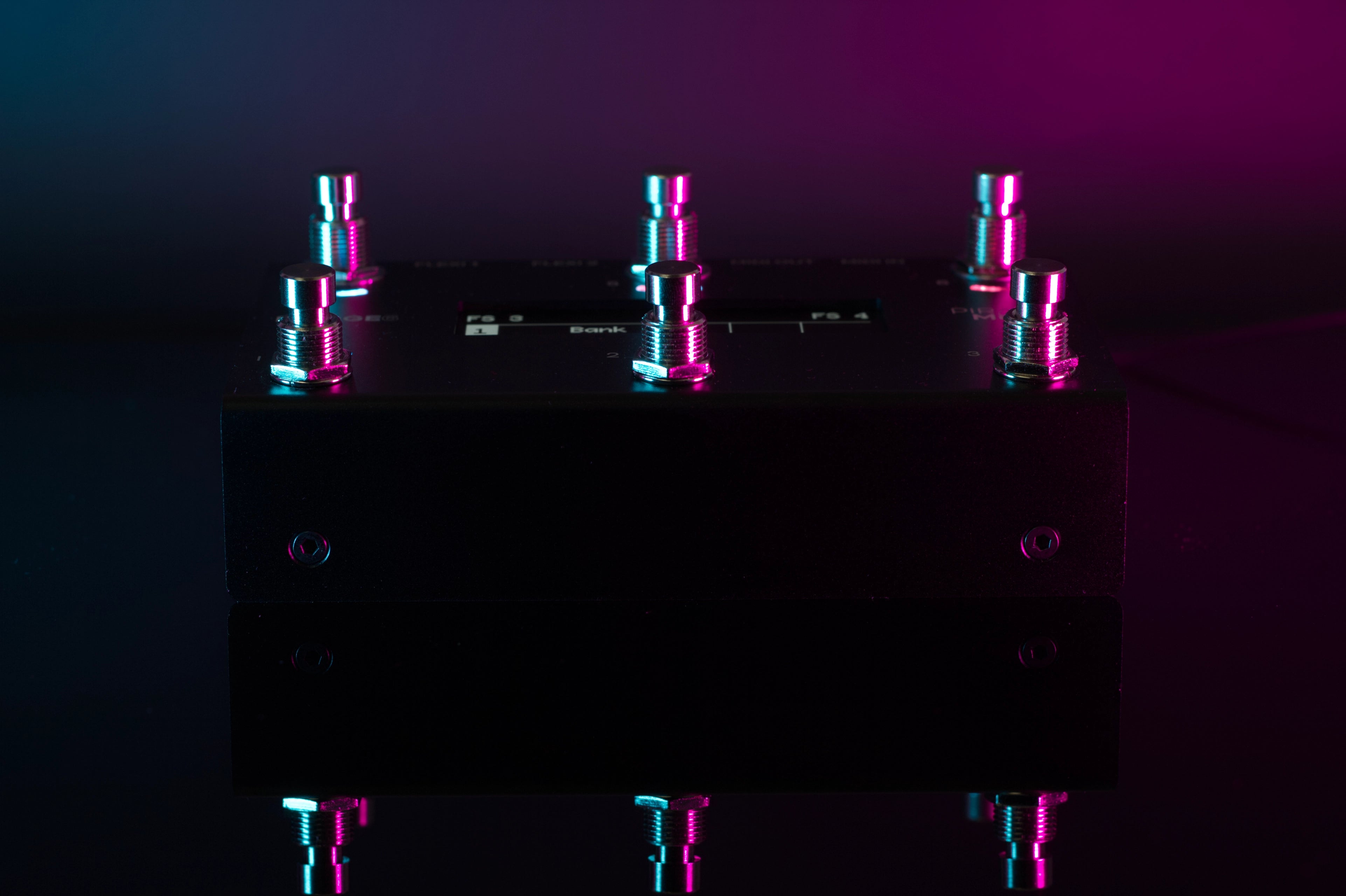 Community Driven
Many of the awesome features we've implemented have been the result of lots of discussions with you - the one who actually uses the device!
We continue to closely and personally interact and chat with anyone who wants to be a part of our community. You can suggest features, tweaks, report bugs, and give us ideas on how to improve your user experience.
Discord Channel
Our Discord Channel has forums, chat rooms, voice chat, announcements, beta testing, feature requests, and direct communication with us and a bunch of MIDI-wizard friends. It's the perfect place to ask or look before you buy, or get assistance or ideas setting up your MIDI rig to best suit your needs.
Facebook Group
The Discord channel's more mainstream counterpart. Facebook groups are a tried and true method of interacting with our community. You can join and read past conversations, see product development leaks, and ask any questions you need answered.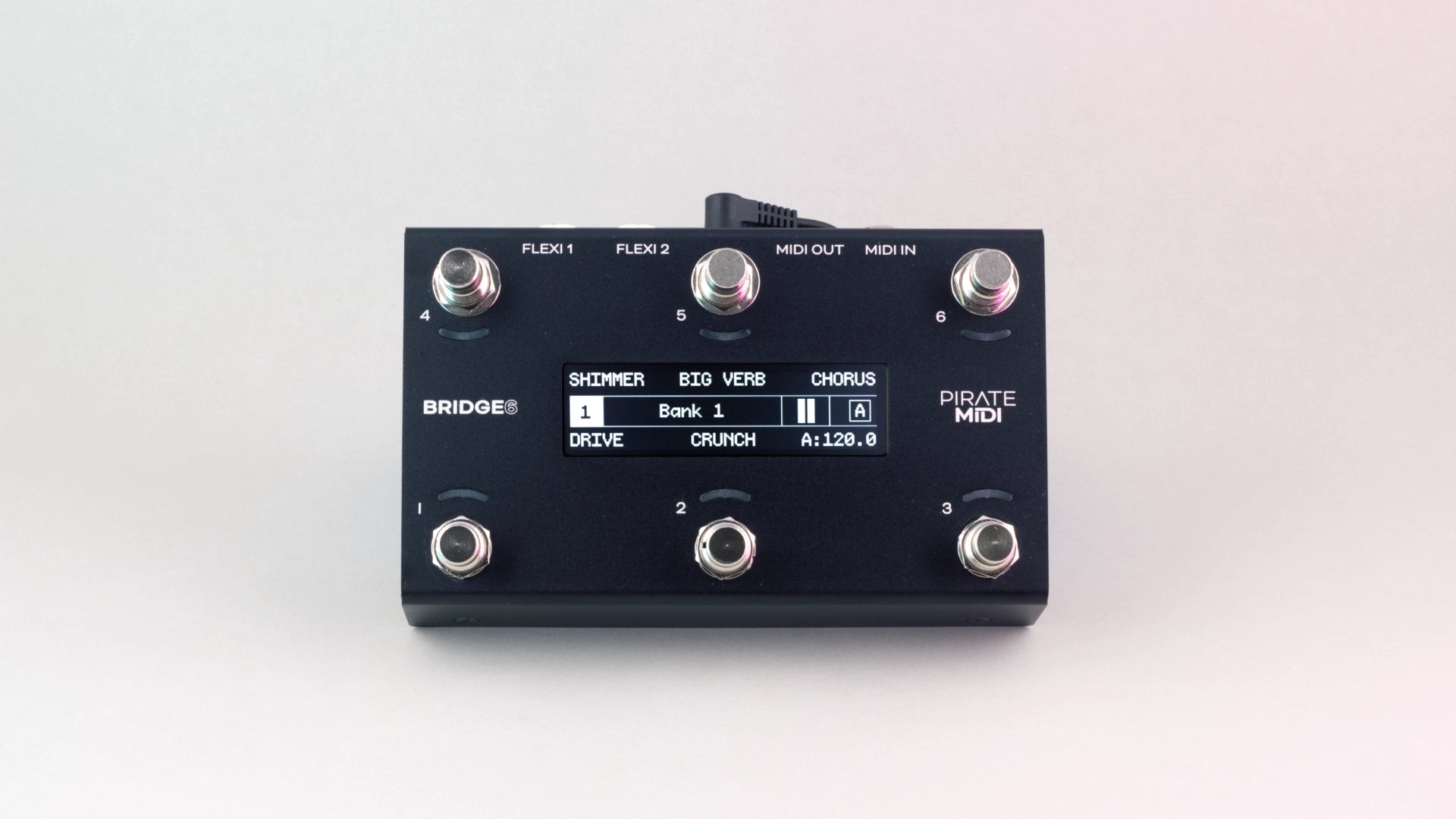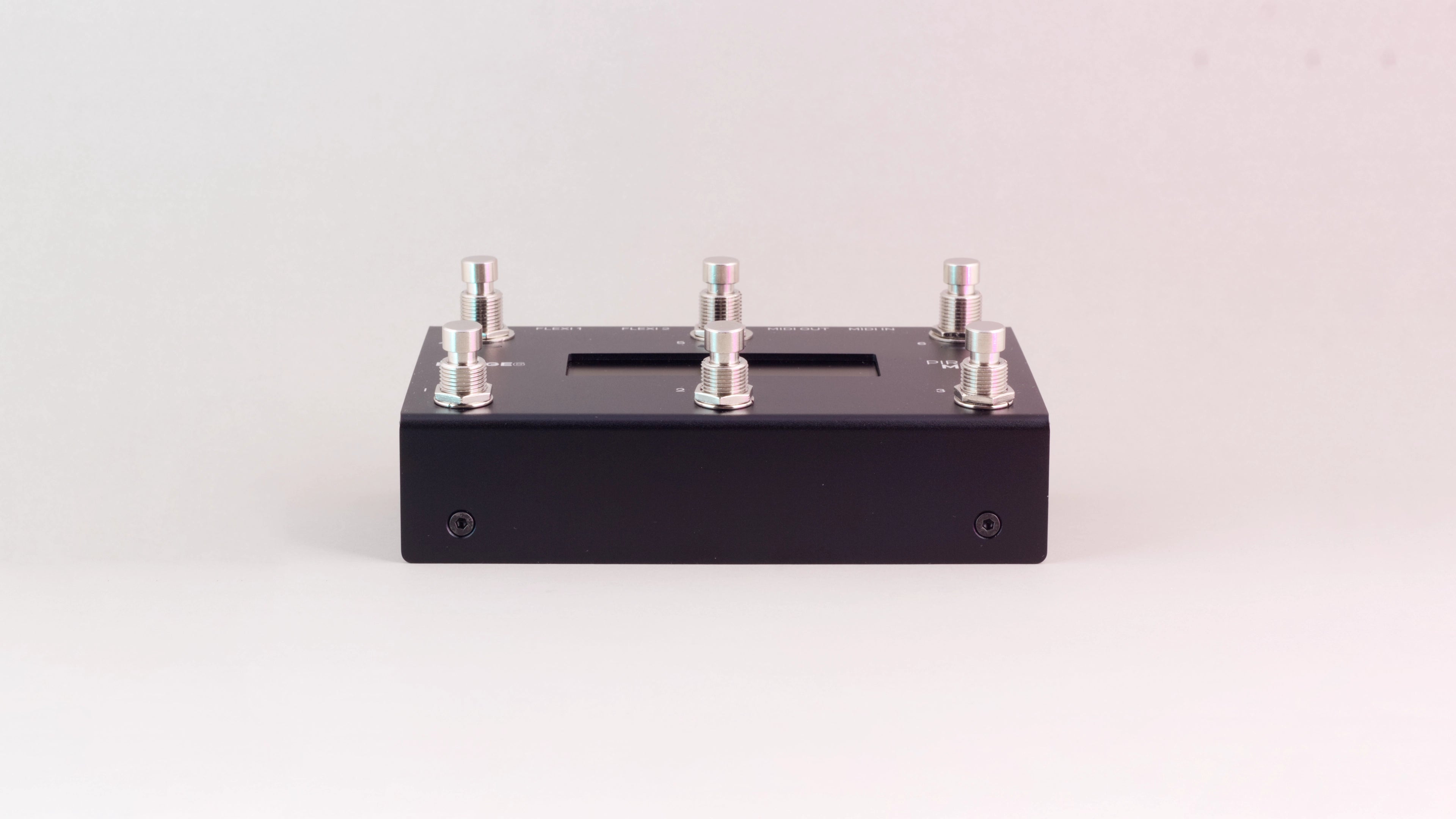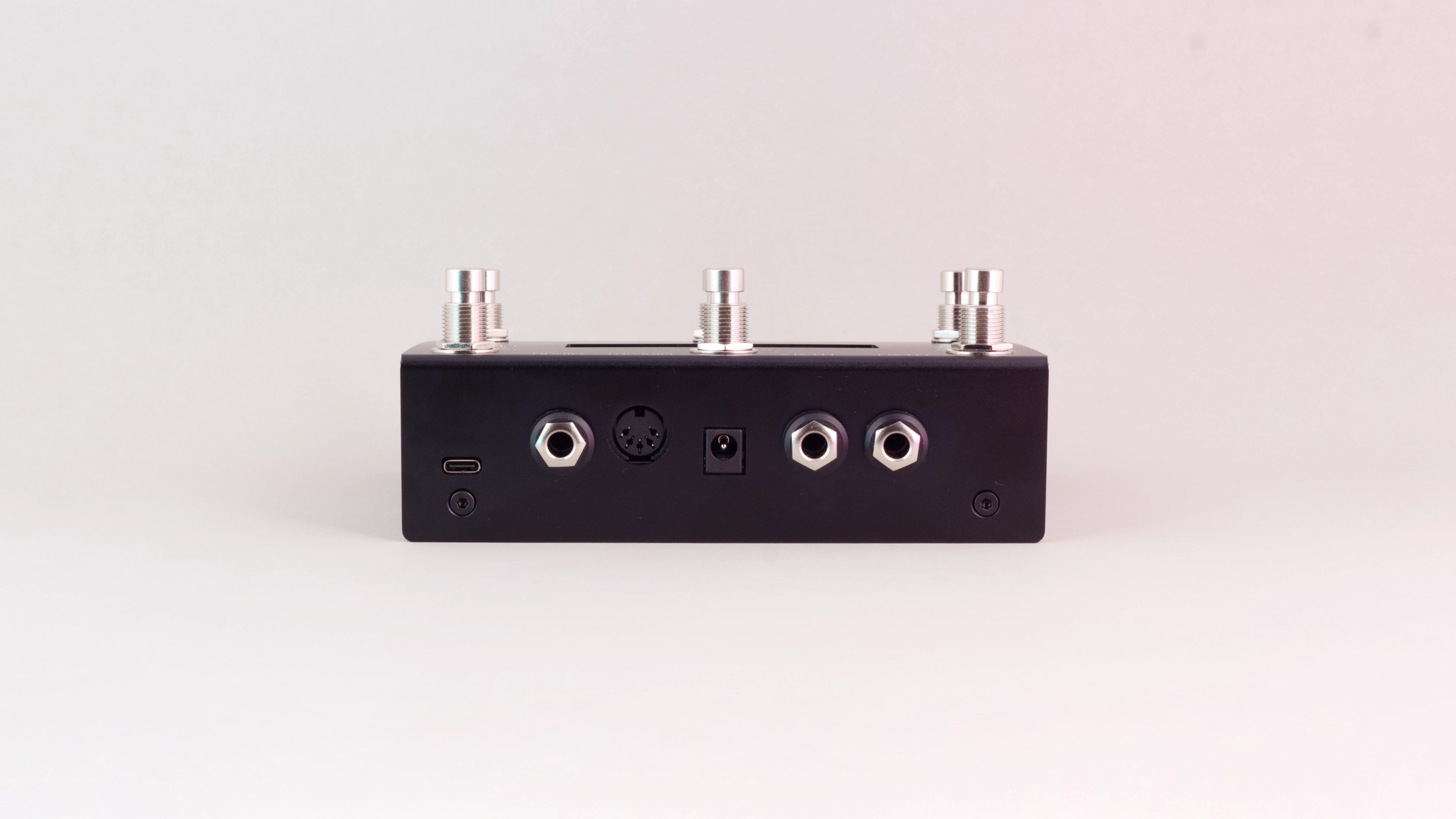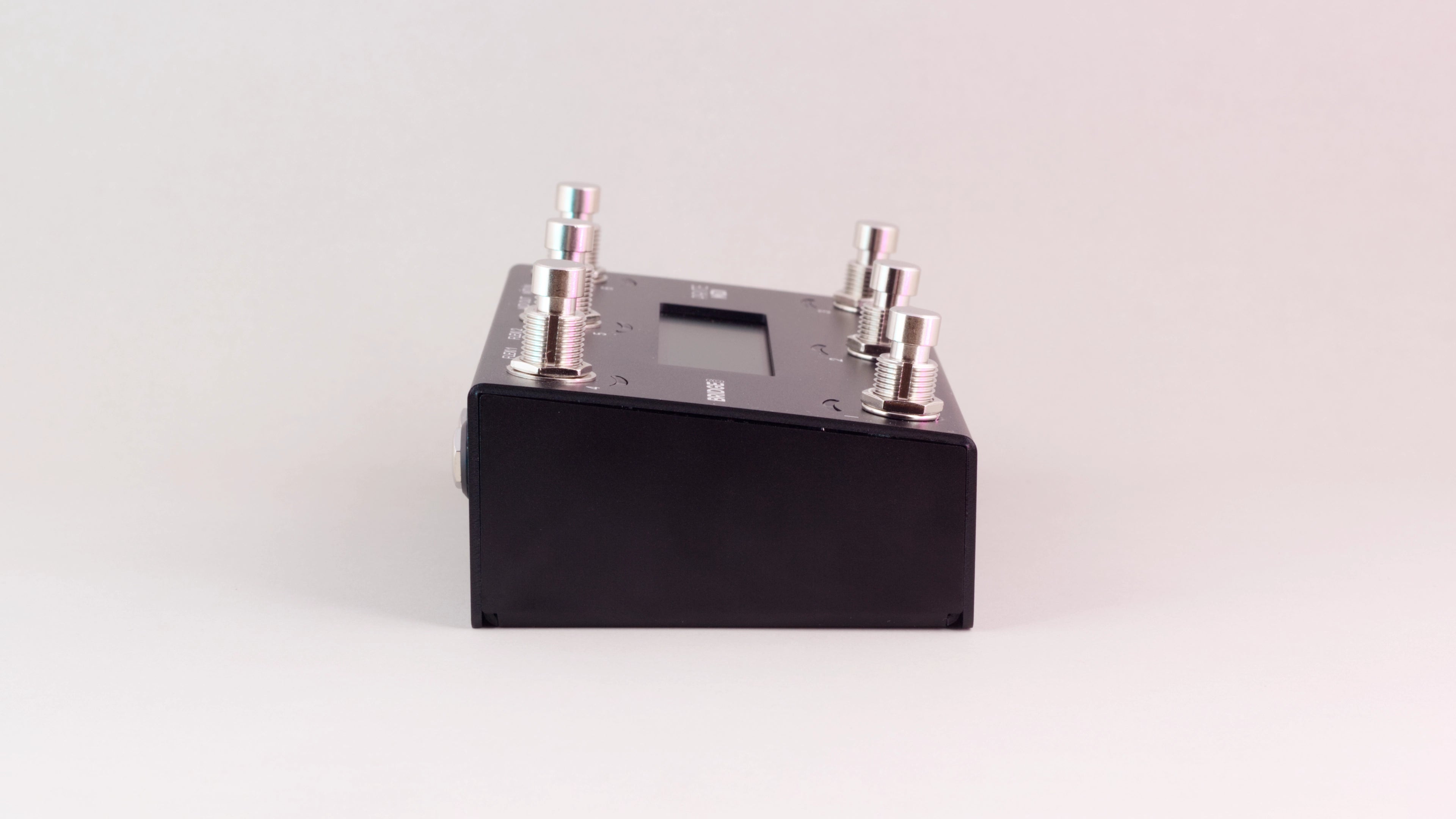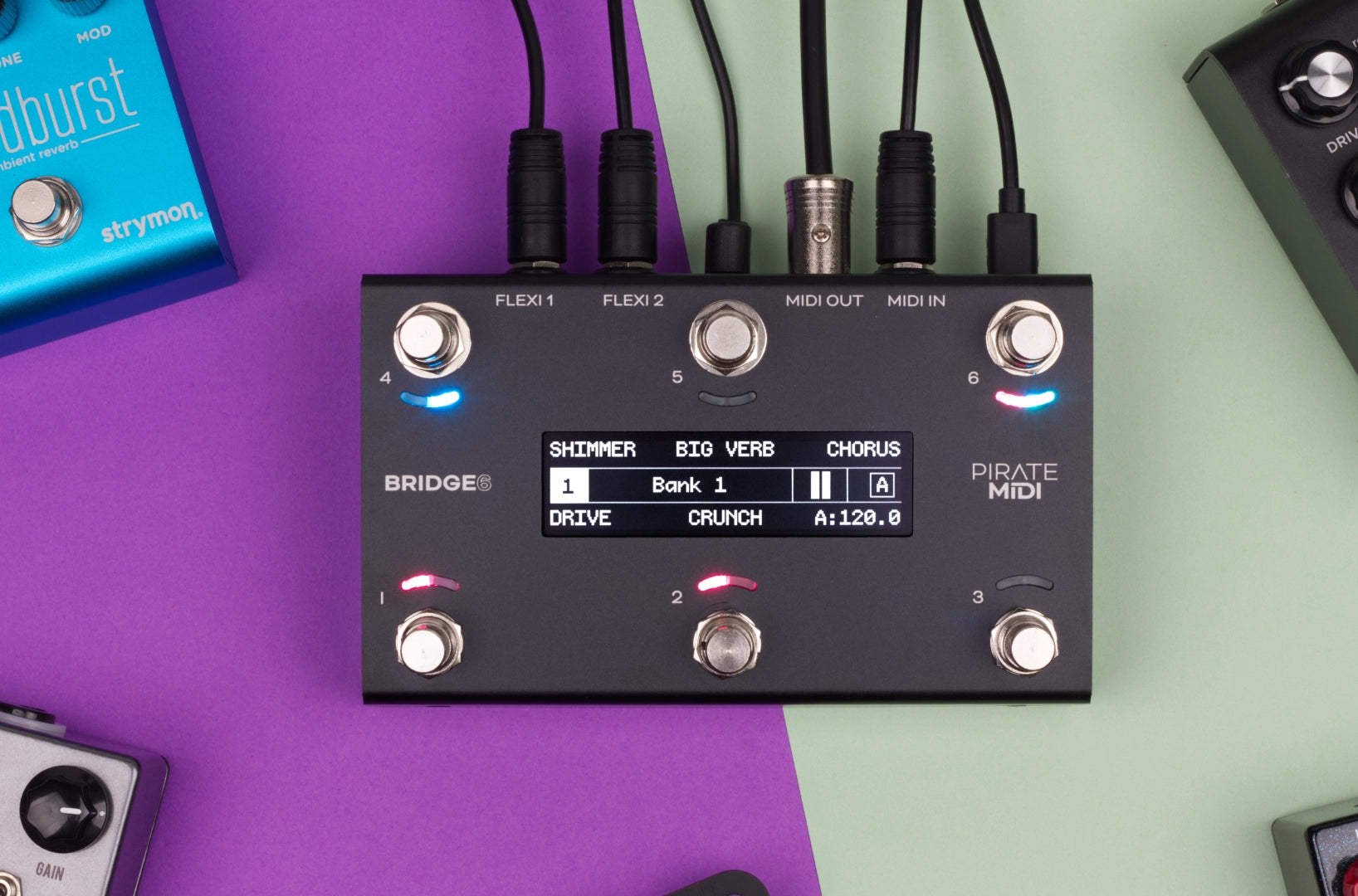 Please note: If this item is marked as a preorder, it is non-refundable. For delivery time estimates, please visit our Preorder Status page
100 Banks
16-character/symbol bank names
80+ Messages per switch, per bank
Connect up to 4 expression pedals, each with 12+ MIDI messages each, per bank
Up to 6 aux switch inputs
Multiple switch states (press, release, hold, hold release, double press, toggle, sequential, scrolling)
8-character/symbol Scribble strip displays
Powerful switch groups for making switches interact with each other in unique ways
Powerful MIDI LFOs
Use the web editor or the device menus for easy configuration
Device Library database of 375+ effects, amps, apps, and synths
Width: 160 mm
Depth: 94 mm
Height: 63 mm
Weight: 550 g
Color: Black
All PIRATE MIDI devices are covered by a 12 month warranty for manufacturing defects and unreasonable wear of parts.

Australian consumers are additionally covered by Australian consumer law, giving extended protections for the life of the product according to the relevant legislation.